Butts are the Top Item Found at Beach Cleanups
Cigarette buts are the most littered item in the world. In San Diego County, butts accounted for one in every five items collected at our 2019 beach cleanups. They are the top item found at our beach cleanups, a position they've held every year since we started collecting data in 2007. Often littered on our sidewalks and streets, they end up in our storm drains, flowing to our streams, rivers, bays, lagoons and ultimately the ocean.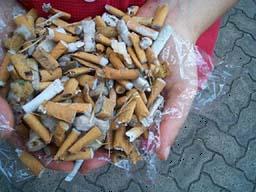 Surfrider has actively campaigned against cigarette butt pollution since at least 1992, the year we launched the Hold On To Your Butt (HOTYB) program. HOTYB volunteers have installed 200+ cigarette butt receptacles in high traffic areas all over the county, distributed thousands of "pocket ashtrays" to smokers, and held annual Hold Onto Your Butt awareness days.
Along with our Beach Cleanups, the HOTYB program has prevented hundreds of thousands of cigarette butts from entering our ocean, waves and beaches. However, the evidence is clear that these efforts alone are insufficient to deal with such a widespread problem.
It's time to stop treating cigarette butts as a "litter issue" and hold tobacco producers accountable for the billions of toxic, single-use plastic filters they're putting into our markets and environment every year.