By Britt Bensen
In June, as we were in various phases of the Shelter-In-Place (SIP) due to COVID-19, Surfrider's San Mateo County chapter's regular programs were on hold due to health and safety distancing restrictions imposed publicly in SIP, like other chapters across the country. This included our beach cleanups , Blue Water Task Force water quality testings, and our other events (Side note: Now in August, our beach cleanups and Blue Water Task Force programs are slowly resuming).
We contemplated how we could be of some assistance in our community, while still abiding to distancing policies. At the same time, we were hearing the toll the pandemic was having on local restaurants and First Responders. What could we do and act responsibly within the constraints of distancing? We decided to take a new approach and pivot with an existing Surfrider program.
We wanted to acknowledge the continued efforts of our local Ocean Friendly Restaurants (OFR) program by purchasing food and donating meals to local First Responders who have risen to occasion in this time of need.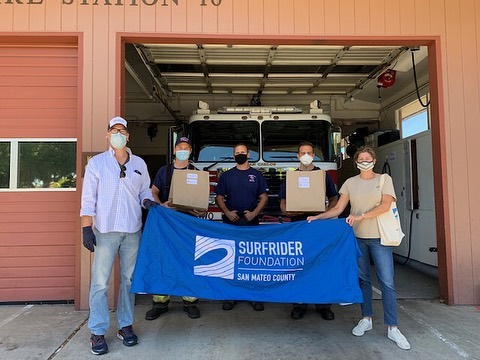 Although confronted with current limitations and reduced access to normal supplies, we applaud the continued efforts of our OFR partners to abide by the Surfrider program's more environmentally friendly guidelines. With SIP, it has become more common place for many restaurants to resort to delivering take out food any way they can, including using single-use plastic bags, containers and utensils. There are ways we can intentionally reduce our need to use single-use materials and keep this practice front of mind. While it's helpful for the businesses to provide more sustainable packaging and cutlery, patrons can be mindful when going out to eat. If you can't choose an OFR, bring your own bags and use our home utensils when going for take out.
For our COVID-19 inspired initiative, we first contacted OFRs in our area to gauge interest and determine dates. We then reached out to a First Responder org within close proximity to each restaurant. The idea was to make it turn-key and easy on all parties. A few chapter volunteers would pick up the food and then deliver it to the recipients, while properly respecting distancing guidelines. Short and sweet.
We first went to Johnston's Saltbox, an artisan restaurant with a rooftop kitchen garden in San Carlos, CA on June 18. We were greeted by Sean Johnston, the owner, and his crew. We chatted about how they have overcome supply obstacles and how they revamped their parking lot for outdoor dining, in addition to curbside pickup for take out. Then we were off with burgers and salads to the very appreciative San Carlos EMT and Fire Departments. While always on the verge of a call, thankfully they were on location when we arrived and welcomed the lunch we delivered.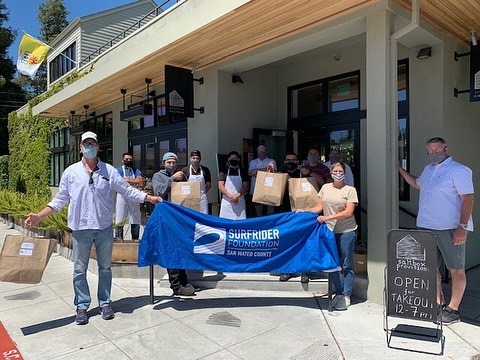 Then on July 21 we went Coastside to Half Moon Bay Brewing Company, a popular waterside eatery for locals and visitors alike. We learned from Craig Carroll, CEO, that HMB Brew Co. can now seat 150 diners properly distanced outside, in addition to their take out. You can't miss their curbside Hop Trotter serving up their crafted beers, including new batches of Flower to the People (American IPA) and I'm So Lonesome I Could Cryo (West Coast IPA). When asked how it's been to abide by Surfrider's sustainable OFR guidelines during this time, Craig affirmed that keeping to their green standards was never in question when approaching the obstacles of COVID-19, saying their established relationships relatively spared them with shortages for regularly ordered OFR products.
The recipient of this installment of our OFR food donation went to the unheralded CA State Parks Lifeguards. Lifeguards are certainly more symbolic of the Surfrider culture and they too are considered First Responders (appropriately so in these times). It was a great fit. As they patrol our favorite beaches up and down San Mateo County's many beaches, they are thrown into a whole new situation of having to monitor visitor distancing as people flock oceanside for fun and serenity. Beachgoers, please thank the lifeguards, respect your neighbors and pick up after yourselves. Overwhelmed garbage and recycling bins have come an issue during COVID-19, unfortunately leading to a more littered coastside. Let's keep our beaches clean & beautiful, even if it means bringing your trash home.

Providing lunch was a small token of Surfrider San Mateo County's appreciation for First Responders in our community. And it was incredibly uplifting to see local restaurants open for business as they enthusiastically received us behind masks. We thank all First Responders and our OFR partners for what you do. The next time you dine out, look for a participating OFR member sticker on their door, or ask if ordering by phone.
By sharing our chapter's OFR salute with our community, we hope it elevates the visibility of what non-sustainable products are being used, the impact they have on our environment and to provide alternative options when dining out, even if it takes a little more planning. And, to raise awareness of Surfrider's OFR program's to focus on one restaurant, one customer at a time as we attempt to drive behavior change and ultimately create scalable impact to reduce our plastic footprint. We have a handful of OFRs in San Mateo County and there are 664 OFRs nationwide! It's more important than ever that we each take accountability in our actions. With your help, we can grow this program's impact and its message locally and nationally.